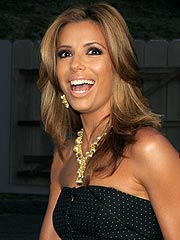 Lest anyone was worried,
Eva Longoria
wants to make one thing very clear: She and fiancé Tony Parker are still getting it on.
"Did you guys hear that rumor that there is no sex before the wedding?" the actress, 32, asked Ryan Seacrest on his KIIS-FM radio show Tuesday morning. "I did not say that!"
Longoria, who will marry the San Antonio Spurs point guard in July, explained how the rumor got started: "Jimmy Kimmel made a joke about how Tony is in the playoffs, so no sex. And I said, 'Well, good thing the playoffs go until the wedding.' Now everyone is talking about it."
Asked Seacrest, "So you called to confirm that Tony and you are still having sex?"
"Yes," Longoria said. "Confirmed."
She also talked about more family-friendly aspects of their wedding preparations. Asked how many people will attend the Paris nuptials, she said: "Two-hundred fifty were invited, but that's not what is going to come. You forget we're having it in Paris where Tony is from. He has a lot more guests than I do. It's not really easy for us because we have such large families."