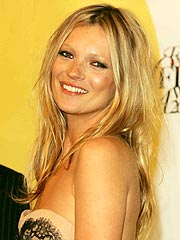 Kate Moss
caused mayhem Monday night when she made a personal appearance at the preview for her Kate Moss Topshop collection in London.
Fans, shoppers and photographers crammed London's Oxford Street to see the model appear briefly in the window display of Topshop's flagship store. There, she posed with the mannequins in a red limited-edition dress of her own design before retreating back into the store to sip champagne with friends.
Outside the store, 2,500 customers lined the street, all waiting to get inside for their allocated 20 minutes of shopping (each shopper was allowed to buy only five items). Having stood in line since 1:00 in the afternoon, the last group of shoppers left at 12:30 a.m.
First in line was a 24-year-old Londoner named Laura, who'd been waiting for seven hours. "I'm getting tired now," she told PEOPLE. "I've been here a long time, but it will be worth it. Topshop have been really nice, handing out popcorn and water."
Moss, 33, looked on from behind a pillar with her mother and a small group of friends as the first wave of customers ran into the store at 8 p.m.
Looking nervous, she quickly left just minutes later, leaving Topshop owner Philip Green to walk the store floor. "She is excited and nervous," he told PEOPLE. "Until it's out there, you just don't know, do you?"
The 50-piece collection officially launched across the UK on Tuesday morning when dedicated shoppers camped overnight for Topshop's 7 a.m. opening. The line will be available in Barneys in the U.S. beginning May 8.
Moss's rocker boyfriend Pete Doherty – who late last year inked a deal to design his own clothing line for the Gio-Goi label – was not at the event.