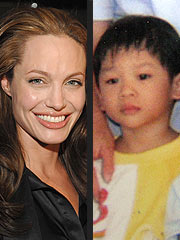 Angelina Jolie and Brad Pitt's latest family addition has officially taken their surnames.

A Santa Monica court on Thursday approved Pax Thien Jolie's name change to Pax Thien Jolie-Pitt, a court clerk confirms to PEOPLE.

Pax, 3, was adopted from a Vietnamese orphanage in March, joining Pitt and Jolie's children Maddox, 5, Zahara, 2, and Shiloh, 1.

Because Vietnamese law makes it difficult for unmarried couples to adopt, Jolie adopted Pax on her own, but he is being raised by both her and Pitt.

In April, Jolie formally requested that the court change her new son's name to Pax Thien Jolie-Pitt.

In January 2006, after Jolie made a similar request in the same court, her other adopted children, Maddox and Zahara, were officially named Jolie-Pitt.

In other Jolie news, the actress on Wednesday applauded President Bush's call to Congress to double the funding for the President's Emergency Plan for AIDS Relief to $30 billion, which includes money to help orphans worldwide.

(Jolie serves as honorary board chair of Global Action for Children, an organization she helped launch in April.)

"We are all very grateful that the President has made this major commitment to these children," Jolie said in a statement. "These are the world's children, and this is the world's responsibility, and we hope that other G-8 countries will follow his lead."

She added, "I will continue to actively lobby on behalf of these children and encourage Congress to follow through on this commitment."